The Shale Crescent USA is the most profitable location to build a petrochemical plant. Sitting on top of the Utica and Marcellus Shale reserves, the region has an abundance of natural gas resources at costs below Gulf Coast equivalents. Ethane and other natural gas liquids (NGLs), including propane and butane, are abundant and production levels are projected to increase.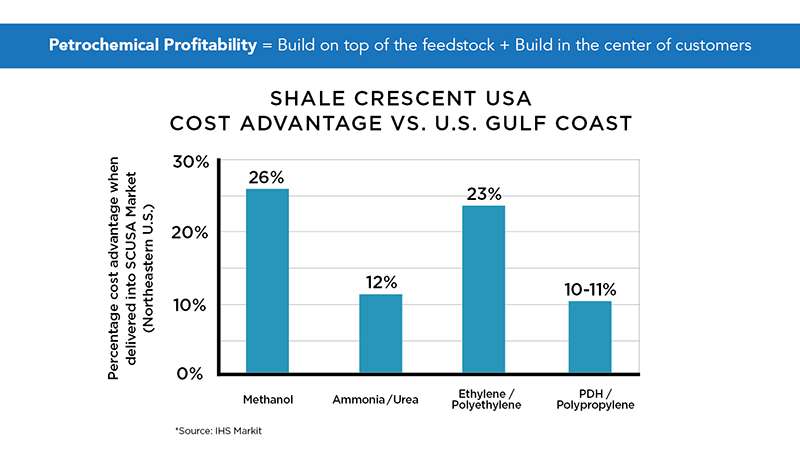 According to a 2018 DOE report, the Shale Crescent USA region – which by itself would rank as the third-largest producing country behind the U.S. and Russia —will increase its NGL production by more than 700 percent in the decade from 2013 to 2023.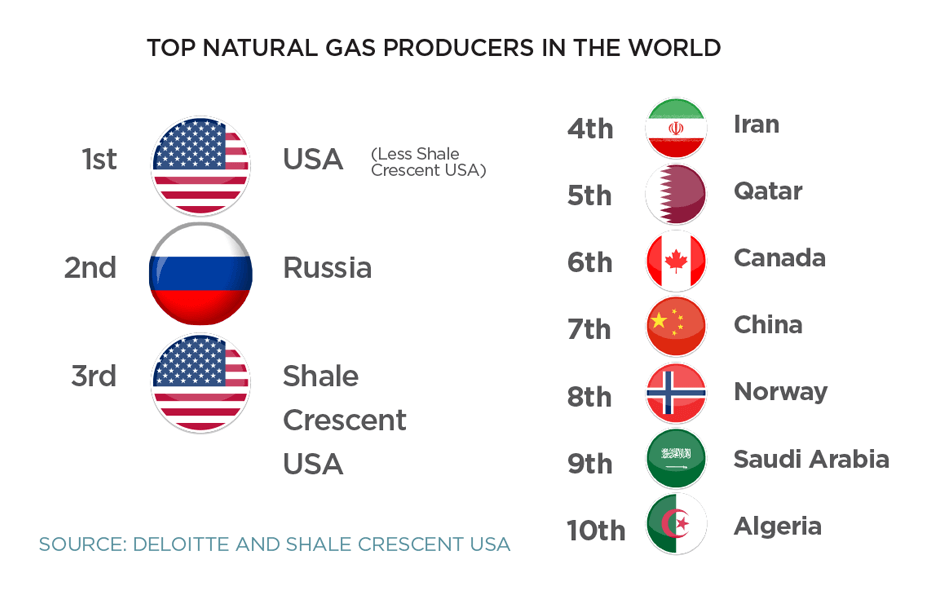 Beyond access to resources, petrochemical investment in the Appalachian Basin is also incredibly cost-effective. A 2018 IHS Markit study, Benefits, Risks, and Estimated Project Cash Flows: Ethylene Project Located in the Shale Crescent USA vs. the US Gulf Coast, found the Shale Crescent region will "provide a significant financial advantage" over the U.S. Gulf Coast for companies investing in newpetrochemical projects.
---
The savings generated by abundant NGLs, coupled with proximity to the market and thus lowered delivered costs, are substantial benefits for investors. IHS Markit estimates that between 2020 and 2040, a $3 billion petrochemical project in the Shale Crescent region would generate an $11.5 billion pre-tax cash flow, as well as a NPV15 of $713 million—that's four times higher than that of the Gulf Coast.
NPV15 is 4x higher in the Shale Crescent USA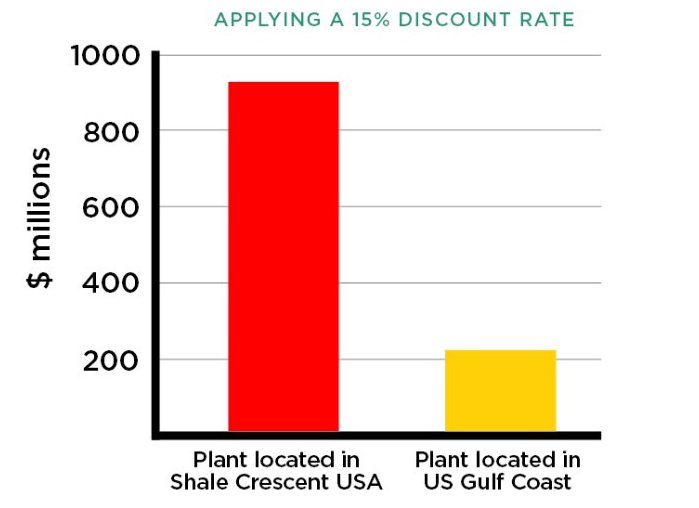 Ethylene/Polyethylene Facility
The study found ethane costs to be 32 percent lower in the region than on the Gulf Coast, while polyethylene would cost 23 percent less to produce.
"Without considering the time value of money, the pre-tax cash flow of the Shale Crescent USA project from 2020 to 2040 amounts to $11.5 Billion, compared to $7.9 Billion for a similar Gulf Coast project, a pre-tax cash flow advantage of $3.6 Billion for a nearly $3 Billion investment in an ethylene/polyethylene plant." (IHS Markit)
The abundance of ethane and other NGLs including propane, butane, and iso-butane in the Marcellus and Utica formations was highlighted in a 2019 U.S. Department of Energy Natural Gas Liquids Primer update. The report projects that by 2050, increased natural gas production in Appalachia will quadruple the 2013 levels. As a major wet gas producer, DOE projects the region's NGL will increase by more than 700 percent in the decade from 2013 to 2023.
---
Natural Gas Liquids Production
---
Shale Crescent USA:
NGL production will increase from 0.60 million barrels per day in 2018 to 1.17 million b/d in 2040*
Is forecasted (by 2040) to produce as much NGLs as the entire U.S. produced in 2008
Ethane production is forecasted to increase from 0.2 to over 0.7 million b/d, contributing about 25% of the total U.S. production by 2040*
*Source: IHS Markit
The Shale Crescent USA region has already drawn significant investment from Shell Chemicals re-entry into the polyethylene market. Their $6-billion ethane cracker project being constructed outside of Beaver, Pennsylvania affirms the Shale Crescent USA cost advantage. Across the Ohio River, Thailand's PTT Global Chemical has spent $220 million in land acquisition and planning for its proposed multi-billion-dollar ethane cracker plant in Belmont County, OH. These projects will create thousands of new jobs and generate millions in tax revenue in the Shale Crescent region.