Our Goal
Shale Crescent USA is a non-profit organization. Our foundation for success is centered on the goal to deliver targeted messaging to high energy intensive industry decision makers of repeatable and validated technical analysis which demonstrate significant Shale Crescent USA economic and strategic advantages for their businesses. Embedded in the success formula is the goal to advance synergies with local, regional, and state economic development organizations.
Our Mission
Shale Crescent USA's mission is to encourage business growth along the Ohio River Valley based upon low natural gas prices that allow manufacturers to operate more efficiently while producing products more economically with access to water, half the population of the United States and Canada, and 70% of US. Polyethylene and 77% Polypropylene demand.
Providing Research Driven Data to Drive Profitability and Growth
Shale Crescent USA has invested over half a million dollars in market research to provide accurate data to C-level executives detailing the many advantages of the Shale Crescent USA versus the U.S. Gulf Coast for petrochemical and polymer investment.
A 2018 study conducted by IHS Markit, a respected global information provider, Benefits, Risks, and Estimated Project Cash Flows: Ethylene Project Located in the Shale Crescent USA versus the US Gulf Coast determined the Shale Crescent USA has an NPV15 four times higher than the U.S. Gulf Coast for an Ethylene/Polyethylene Facility located in the region.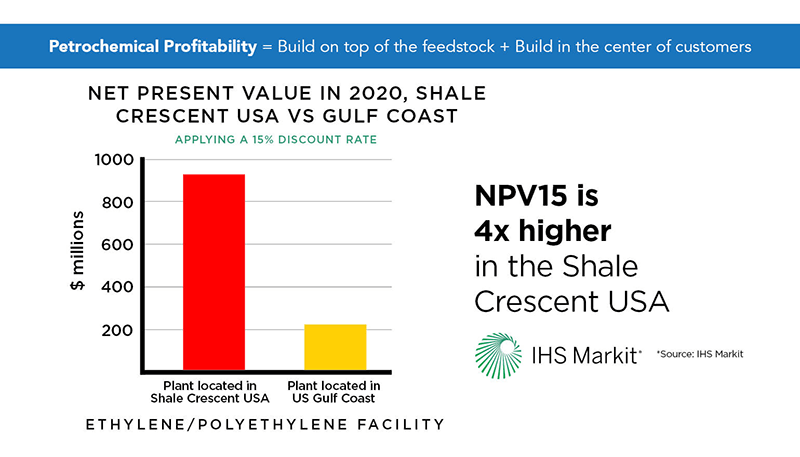 IHS Markit reported in a 2019 report Estimated Logistics Benefits of the Shale Crescent USA Region Versus the U.S. Gulf Coast for Natural Gas and LPG' that a significant percentage cost advantage for Methane, Ammonia/Urea, Ethylene/Polyethylene and PDH/Polypropylene exists in the Shale Crescent USA when delivered into northeastern U.S. markets.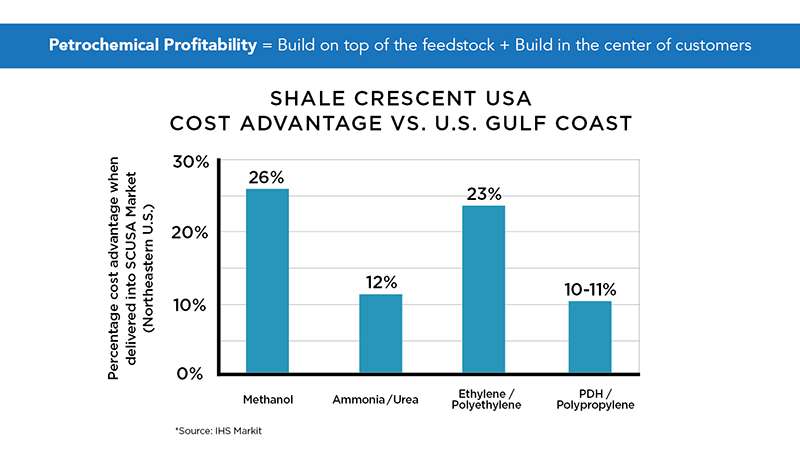 An economic study titled Natural Gas Savings to End-Users 2008-2018 by Kleinhenz and Associates Increased natural gas production revealed U.S. end-users of natural gas have saved $1.1 trillion in savings resulting from increased natural gas production, virtually all from the Shale Crescent USA, generating lower natural gas prices.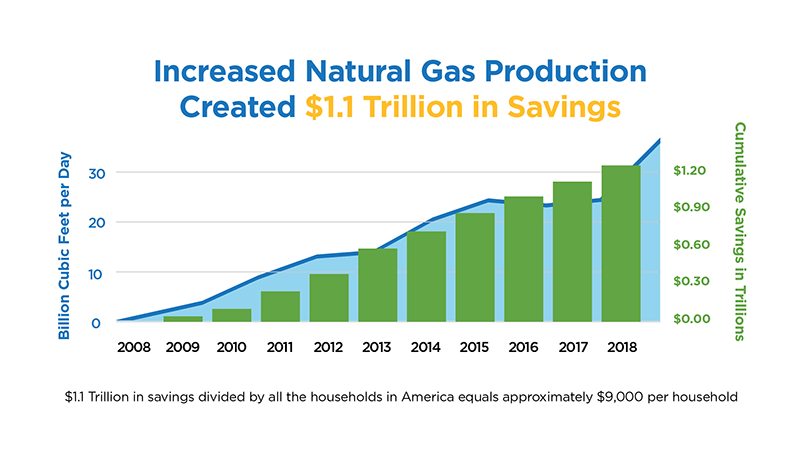 Providing relevant, up-to-date and accurate data to decision makers is a cornerstone of Shale Crescent USA in today's rapidly shifting oil and gas market landscape. C-level executives tasked with meeting growth and profitability goals must leverage accurate data and influential variables. Understanding the paradigm shift that has taken place over the past 10 years in the oil and gas industry is having and will continue to have significant impacts on high-energy intensive industries that have traditionally invested in the U.S. Gulf Coast. The Shale Crescent USA is now the most profitable location to invest in a petrochemical facility.